LOADING
Evaluate the iMX RT1166 uCOM board
On-board 1XK Wi-Fi/BT module
4.3 inch LCD and MIPI-to-HDMI bridge included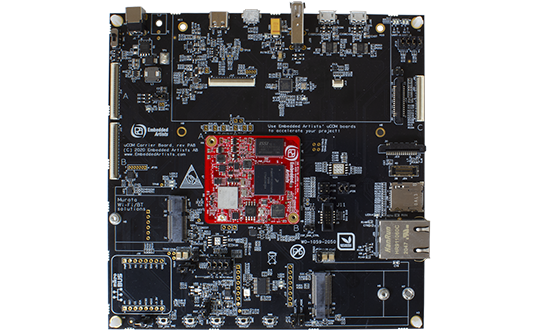 The iMX RT1166 Developer's Kit lets you get up-and-running quickly with the iMX RT1166 uCOM board. All relevant interfaces are available for evaluation and prototyping.
What is included when buying a kit?
4.3 inch 480x272px LCD with capacitive touch panel
24-bit color adapter
MIPI-to-HDMI bridge adapter
Ethernet adapter
12V power supply
Micro-B to A USB cable
MCU-Link debug adapter
The uCOM Carrier board is a reference design for custom carrier boards using Embedded Artists' uCOM boards.
Many RF solutions
The iMX RT1166 has an on-board 1XK Wi-Fi/BT module and there are more options to makes it simple to add RF solutions via the M.2 (B-key) and Mikrobus interfaces.
Do you want to know more?
Connectors and interfaces
DF40C 100/40-pos connectors for uCOM boards
M.2 E-key connector (with SDIO, PCIe and USB interfaces connected) - for Wi-Fi/BT M.2 modules
M.2 B-key connector (with PCIe, USB and SIM card holder interfaces connected)
1000/100/10 Mbps Ethernet RJ45 connector
USB OTG interface
USB Host interface
uSD memory card connector
Dual UART-to-USB FTDI bridge for console connections
Display interface (MIPI-DSI), dual connectors
Display interface (parallel RGB) with backlight control. Note: Feature not accessible with standard mounting option for the iMX RT1176 uCOM board.
Camera interface (MIPI-CSI), dual connectors
Debug interface with 2x5 pos 50 mil pitch Cortex debug connector
Mikrobus interface connector for Click boards™
Expansion connectors for accessing uCOM board signals
Power
12V (+-30%) supply voltage, with reverse polarity protection
External VBAT power input (for uCOM RTC)
Current measurement possibilities in supply voltages
5V/5A DC/DC supply to uCOM
Dimensions
152 x 152 mm
Five 4.3mm holes for mounting and grounding
Other
2-port USB Hub
On/Off, Reset, ISP Enable, Wakeup and user pushbuttons
RGB-LED, LEDs, I2C-GPIOs and I2C-PWMs
Pads for mounting QSPI flash memories
Adapter for second 100/10 Mbps Ethernet PHY
Adapter for MIPI-DSI to HDMI. Note that driver is not yet available.