LOADING
Dual-core Cortex-M7/M4 @ 1000/400 MHz
2D vector graphics with support for Open VG 1.1
On-board Wi-Fi/BT options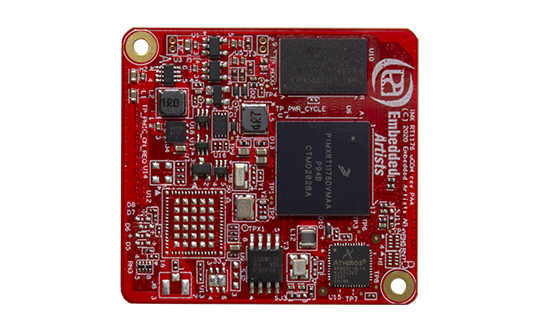 This is a dual-core Arm® Cortex®-M based crossover MCU for applications where you want to combine the usability and real-time processing of a microcontroller with the high performance and multimedia functionality of an application processor!
Real time processing and high-speed performance
The i.MX RT1176 is one of the highest performing Cortex-M7/M4 solution delivering 6468 CoreMarks (when running core at 1000 MHz). In addition to the high-speed performance it provides fast real-time responsiveness and offer several low power modes.
This processor is a great upgrade option when the current microcontroller design no longer offers sufficient performance and there are reasons to not fully transfer into the Linux universe with an application processor.
Multimedia functionalities
The i.MX RT1176 has the most comprehensive multimedia functionality among our microcontroller modules including great audio, 2D vector graphics core (Open VG 1.1), pixel processing and camera sensor.
Wide range of connectivity options
There are currently the following on-board Wi-Fi/BT options avilable (others on request):
There is also a wide range of advanced off-board connectivity options with other Murata Wi-Fi and Bluetooth modules.
Temperature Range
Our iMX RT1176 uCOM board is available in commercial / industrial temperature range, 0 to +70 / -40 to +85 degrees Celsius. The industrial (temperature range) version is suitable for always-on applications.
Do you want to know more?
CPU Details
CPU
Cortex-M7/M4 @ up to 1000/400 MHz
RAM
Internal SRAM: 2 MByte, SDRAM: 32 MByte
Flash
16 MByte external QSPI
Multimedia
Graphics Output
MIPI-DSI
Hardware 2D/3D Graphic
OpenVG 1.1, Pixel Processing Pipeline
Hardware Video
SW only
Graphics input
MIPI CSI, Parallel CSI
Audio
5x SAI, DMIC, SPDIF
Connectivity
Ethernet
Dual 10/100/1000 Mbps with one on-board Gigabit Eth-PHY
USB
2x HS USB 2.0 OTG
Wi-Fi
Yes 1XK or 1ZM Murata module (mounting option)
FlexIO
2 blocks
Serial
12x UART, 3x CAN, 6x I2C, 6x SPI
ADC / PWM
12-bit ADC/DAC / 4x PWM
SD
2x SD3.0
PCIe
-
Serial ATA
-
Physical
Temperature
0 to 70°C or -40 to 85°C
Size
42 x 45 mm
Connector
2x DF40C-100, 2x DF40C-40