The Art of Accelerating Projects
Every decision we take in our product development is focused on saving time for our customers so that they can outperform their project deadlines.
Embedded technology is the heart of many products. It takes a dedicated mind to craft an embedded system that integrates seamlessly with complex industry products. We are proud to have been designing embedded solutions that meets all requirements and help industry customers stick with tight deadlines for 20 years now.
The Facts
Established 2000
Headquarters in Malmö, Sweden
NXP Gold Partner
ISO 9001 and ISO 14001 certified
Sustainable technology mindset
Loyal long-term customers
Our customers often choose to grow together with our technology. We supply them with the embedded know-how, support and documentation they need to be on track with their development. Read some cases here.
NXP Gold Partner
We simply don't compromise. That's why we design our boards based on the best technology from NXP. We are of course an NXP Gold Partner – and we are a Proud Gold Partner!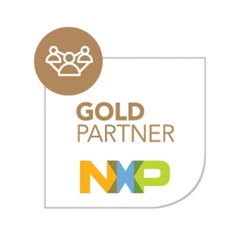 Contact us!
If you have any questions or want to know more about how we can help you please don't hesitate to contact us for an open discussion. Together we analyze your requirements and find a competitive solution!
Contact us
Elegantly Easy
Our customers often choose to grow with our solutions over time – mainly due to the straightforward elegant integration in their development.
Excels Expectations
Easy integration cuts time. Of course. But we are also transparent when it comes to documentation and support making integration less complicated. Enabling you to outperform and keep tight deadlines.
Embedded Expertise
Keeping track on embedded technology and diving into the challenges of industrial products is embedded in our way of working. Our long 20+ years experience makes us a knowledgeable and supportive partner in developing industrial products.