LOADING
Ultra low power - for battery operation
Heterogeneous Multicore Processor (HMP)
Cortex-A7 @ up to 720 MHz & Cortex-M4 @ 200 MHz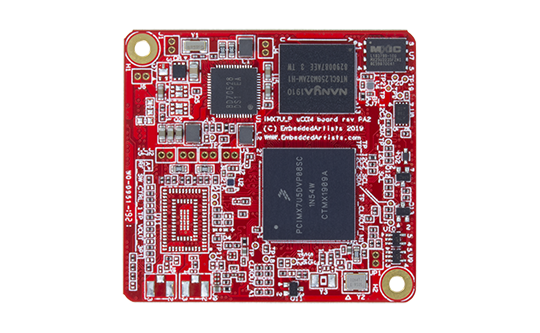 This application processor module is optimized for secure, portable applications that require ultra low power operation and real-time capabilities.
Ultra Low Power
The iMX7ULP uCOM Board has power management implemented throughout the design to enable multimedia features and peripherals to consume minimum power in both active and various low-power modes.
Combining the processor with LPDDR3 memory and Rohm's efficient BD70528MWV PMIC results in an ultra low power module.
With MIPI-DSI display output, parallel camera input, flexible audio interfaces and comprehensive communication features, the i.MX 7ULP is ideal for multimedia applications.
Heterogeneous Multicore Processing (HMP)
The i.MX 7ULP processor comes with a Cortex-A7 and Cortex-M4 core. This combination of different cores allows a feature rich OS, like Linux, to run on the Cortex-A core while a Real-Time OS such as FreeRTOS can run on the Cortex-M4 core.
Get more  information about HMP.
The HMP architecture can reduce the power even more by letting the Cortex-A core sleep until needed. The Cortex-M4 can wake it up on demand.
Ultra compact form factor, 42×45 mm, using the proven Hirose DF40C connectors.
NXP Technology
The module is based on NXP's energy efficient i.MX 7ULP processor which has a Cortex-A7 cores capable at running up to 720 MHz and a Cortex-M4 core capable at running up to 200 MHz.
Temperature Range
The iMX7ULP uCOM Board is available in extended and commercial temperature ranges, -30 to +85 / 0 to 70 degrees Celsius, respectively. The extended (temperature range) version is suitable for always-on applications.
Longevity
Fully supported on NXP's 10-year longevity program.
CPU Details
CPU
Cortex-A7 @ up to 720 MHz, Cortex-M4 @ 200 MHz
RAM
1 GByte LPDDR3 720 MT/s 32-bit databus
Flash
4 Mbyte QSPI, 8 GByte eMMC
Multimedia
Graphics Output
MIPI-DSI
Hardware 2D/3D Graphic
GCNanoUltra, OpenGL ES 1.1/2.0, OpenVG 1.1
Hardware Video
-
Graphics input
Parallel CSI
Audio
4x I2S
Connectivity
Ethernet
-
USB
USB 2.0 OTG, USB HSIC
Wi-Fi
Optional Murata 1LV (CYW43012)
FlexIO
Yes
Serial
4x SPI, 8x I2C, 8x UART
ADC / PWM
Dual 12-bit / multiple input channels
SD
1x USDHC (do not exist when on-board Wi-Fi/BT)
PCIe
-
Serial ATA
-
Physical
Temperature
0 to 70°C or -30 to 85°C
Size
42 x 45 mm
Connector
2x DF40C-100, 2x DF40C-40