LOADING
3D and 2D graphic engines
Hardware accelerator for video encoding/decoding
4x Cortex-A9 @ 1 GHz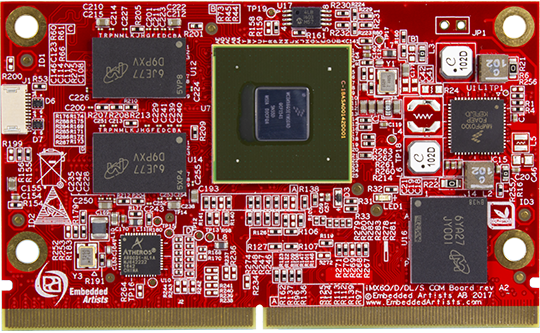 This application processor module is optimized for advanced multimedia applications and comes with four cores.
Advanced Multimedia
The iMX6 Quad COM Board features high-end graphic capabilities with both 3D and 2D engines and hardware accelerator for video encoding/decoding, up to 1080p.
Together with a wide range of display outputs (dual LVDS, Parallel RGB, MIPI-DSI and HDMI) and comprehensive communication features, the i.MX 6 is ideal for advanced multimedia applications.
Compact form factor, 82×50 mm, using the proven MXM3 connector.
Mature product
We do not recommend this product for new designs. Consider using the iMX8M Mini uCOM or iMX93 uCOM instead.
NXP Technology
The module is based on NXP's i.MX 6Quad processor which has four Arm Cortex-A9 cores capable at running up to 1 GHz.
Temperature Range
The module is available in industrial and commercial temperature ranges, -40 to +85 / 0 to 70 degrees Celsius, respectively. The industrial (temperature range) version is suitable for always-on applications.
CPU Details
CPU
4x Cortex-A9 @ 1 GHz
RAM
2 GByte DDR3L 1066 MT/s 64-bit databus
Flash
4 GByte eMMC
Multimedia
Graphics Output
Dual LVDS, HDMI, MIPI-DSI, Parallel RGB
Hardware 2D/3D Graphic
GC2000/GC355/GC320, OpenGL ES 1.1/2.0/3.0, OpenVG 1.1 / OpenCL 1.1
Hardware Video
Decode: 1080p30, Encode: 1080p30
Graphics input
MIPI CSI, Parallel CSI
Audio
3x SSI, ESAI, SPDIF
Connectivity
Ethernet
10/100/1000 Mbps
USB
1x HS USB 2.0 Host, 1x HS USB 2.0 OTG
Wi-Fi
No
FlexIO
No
Serial
2x CAN, 3x I2C, 5x SPI, 5x UART
ADC / PWM
No / 4 ch
SD
3x USDHC
PCIe
v2.0
Serial ATA
SATA II
Physical
Temperature
0 to 70°C or -40 to 85°C
Size
82 x 50 mm
Connector
314 pos MXM3