LOADING
Add a display with RGB interface to your iMX Kit
On-board resistive touch controller AR1021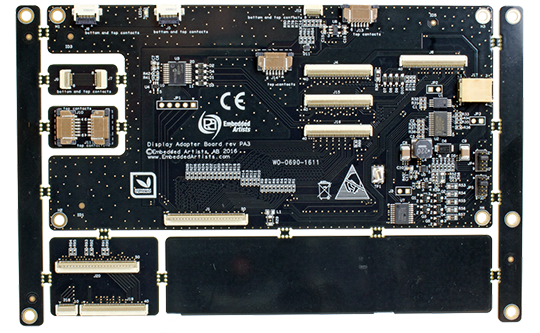 The COM Display Adapter allows you to quickly and easily connect a parallel RGB interface LCD to you iMX Developer's Kit.
The COM Display Adapter is compatible with the following Developer's kits:
Display interfaces
4 different 40-pos FPC connectors for a variety of common 18- and 24-bit parallel RGB display interfaces.
Connects to COM Carrier Board, rev B/C, 50 pos display expansion connector.
Connects to COM Carrier Board, rev A, 40 pos display expansion connector via adapter.
Touch Panel
Connectors to different capacitive controllers to supported displays (with I2C interfaces).
On-board resistive touch panel controller, AR1021 from Microchip.
White LED Backlight Driver
Adjustable current backlight driver (20-160mA).
Optional external +5V supply voltage feed to backlight supply input.
Mechanical
165 x 104.3 mm (same size and hole pattern as COM Carrier Board).
145 x 73 mm (after removing break-off parts).
Power
+3.3V for logic.
+5V for backlight.
Environment
Operating Temperature: 0 - 60 degrees Celsius.
Operating Humidity: 5 - 90% relative humidity, non-condensing.