LOADING
Based on NXP's proven i.MX 6 family
Cortex-A7 @ 528 MHz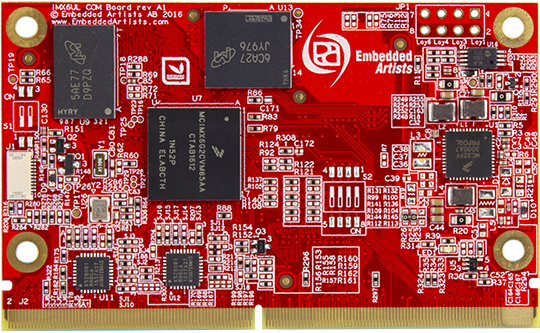 This application processor module is an entry-level alternative for cost-sensitive applications with moderate performance needs. The module has basic multimedia features.
Compact form factor, 82×50 mm, using the proven MXM3 connector.
Mature product
We do not recommend this product for new designs. Consider using the iMX8M Mini uCOM or iMX93 uCOM instead.
NXP Technology
The module is based on NXP's i.MX 6UltraLite processor which has one Cortex-A7 core capable at running up to 528 MHz.
Temperature Range
The iMX6 UltraLite COM board is available in industrial and commercial temperature ranges, -40 to +85 / 0 to 70 degrees Celsius, respectively. The industrial (temperature range) version is suitable for always-on applications.
CPU Details
CPU
Cortex-A7 @ 528 MHz
RAM
512 MByte DDR3L 800 MT/s 16-bit databus
Flash
8 GByte eMMC
Multimedia
Graphics Output
Parallel RGB
Hardware 2D/3D Graphic
Pixel Processing Pipeline
Hardware Video
SW only
Graphics input
Parallel CSI
Audio
3x SAI, SPDIF
Connectivity
Ethernet
Dual 10/100 Mbps
USB
2x HS USB2.0 OTG
Wi-Fi
-
FlexIO
-
Serial
2x CAN, 3x SPI, 4x I2C, 8x UART
ADC / PWM
10 ch (12-bit) / 8 ch
SD
1x USDHC
PCIe
-
Serial ATA
-
Physical
Temperature
0 to 70°C or -40 to 85°C
Size
82 x 50 mm
Connector
314 pos MXM3