LOADING
Cortex-M4F @ 204 MHz and Cortex-M0 @ 204 MHz
Digital Signal Processing with floating point unit
Upgrade from LPC4088 OEM board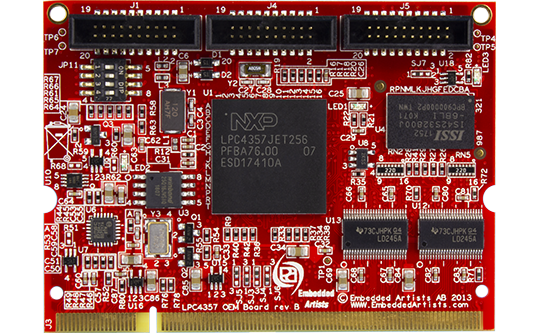 With two cores it's possible to separate the processing of different tasks in your application. This module is a powerful upgrade from the LPC1788/4088 – adding multicore functionality and better performance.
Dual core for better performance
The Cortex-M0 core can be used to off-load data movement and I/O handling that would normally drain the bandwidth of the Cortex-M4 core. For many applications this gives improved application performance.
NXP Technology
The LPC4357 microcontroller on the module is a part of NXP's LPC4300 high-performance family with an ARM based Cortex-M4F @ 240 MHz core plus a Cortex-M0 @ 204 MHz core.
Temperature Range
The LPC4357 OEM board is available in industrial temperature range, -20 to +85 Celsius. The industrial (temperature range) version is suitable for always-on applications.
CPU Details
CPU
Cortex-M0 @ 204 MHz, Cortex-M4 @ 204 MHz
RAM
136 KByte internal SRAM, 32 MByte SDRAM
Flash
1 MByte internal, 128 MByte NAND flash, 2 MByte QSPI
Multimedia
Graphics Output
Parallel RGB
Hardware 2D/3D Graphic
No
Hardware Video
SW only
Graphics input
No
Audio
2x I2S
Connectivity
Ethernet
10/100 Mbps
USB
1x FS USB 2.0 Host/Device, 1x HS USB 2.0 OTG
Wi-Fi
No
FlexIO
No
Serial
2x CAN, 2x I2C, 3x SPI, 4x UART
ADC / PWM
16 ch (10-bit) / 3 ch
SD
SDIO
PCIe
-
Serial ATA
-
Physical
Temperature
0 to 70°C
Size
68 x 50 mm
Connector
200 pos SODIMM