LOADING
Cortex-M3 @ 120 MHz
Multiple connectivity options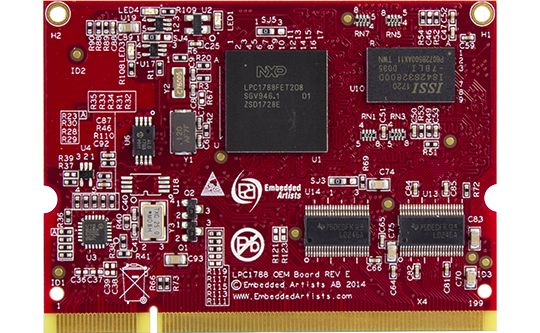 This entry-level module offers multiple connectivity options such as Ethernet and dual USB 2.0.
Compact form factor, 68×50 mm, using the proven SODIMM connector.
NXP Technology
The LPC1788 is – despite being an entry-level product – the most advanced product in NXP's LPC1700 family. It's designed with an ARM based Cortex-M3 @ 120 MHz.
Temperature Range
The LPC1788 OEM board is available in industrial temperature range, -40 to +85 Celsius. The industrial (temperature range) version is suitable for always-on applications.
CPU Details
CPU
Cortex-M3 @ 120 MHz
RAM
32 MByte SDRAM, 96 KByte internal SRAM
Flash
128 MByte NAND flash, 512 KByte internal flash
Multimedia
Graphics Output
Parallel RGB
Hardware 2D/3D Graphic
No
Hardware Video
SW only
Graphics input
No
Audio
I2S
Connectivity
Ethernet
10/100 Mbps
USB
2 x FS USB 2.0 OTG
Wi-Fi
No
FlexIO
No
Serial
2 x CAN, 3 x 12C, 3 x SPI, 5 x UART
ADC / PWM
8 ch (12-bit) / 2 ch
SD
MCI
PCIe
-
Serial ATA
-
Physical
Temperature
-40 to 85°C
Size
68 x 50 mm
Connector
200 pos SODIMM