LOADING
Heterogeneous Multicore Processor (HMP)
4K video decoding
4x Cortex-A53 @ 1.5 GHz & Cortex-M4 @ 266 MHz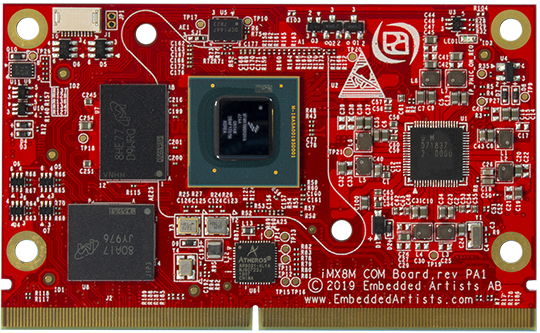 This application processor module is optimized for advanced multimedia applications, incl. 4K video decoding, and comes with up to 4 cores.
Mature product
We do not recommend this product for new designs. Consider using the iMX8M Mini uCOM or iMX93 uCOM instead.
Advanced Multimedia
The iMX8M COM Board features high-end graphic capabilities with both 3D and 2D engines and hardware accelerator for 4K video decoding.
Together with HDMI and MIPI DSI display outputs, MIPI CSI camera inputs, flexible audio interfaces and comprehensive communication features, the i.MX 8M is ideal for advanced multimedia applications.
Heterogeneous Multicore Processing (HMP)
The i.MX 8M processor comes with up to 4x Cortex-A53 cores and one Cortex-M4 core. This combination of different cores allows a feature rich OS, like Linux, to run on the Cortex-A cores while a Real-Time OS such as FreeRTOS can run on the Cortex-M4 core.
Get more  information about HMP.
Power Optimized Design
Combining the processor with LPDDR4 memory and Rohm's efficient BD71837MWV PMIC results in a very low power module.
The HMP architecture can reduce the power even more by letting the Cortex-A53 cores sleep until needed. The Cortex-M4 can wake them up on demand.
Compact form factor, 82×50 mm, using the proven MXM3 connector.
NXP Technology
The module is based on NXP's energy efficient i.MX 8M processor which has up to 4x Cortex-A53 cores capable at running up to 1.5 GHz and one Cortex-M4 core capable at running up to 266 MHz.
Temperature Range
The iMX8M COM Board is available in industrial and commercial temperature ranges, -40 to +85 / 0 to 70 degrees Celsius, respectively. The industrial (temperature range) version is suitable for always-on applications.
Longevity
Fully supported on NXP's 10 and 15-year longevity program.
CPU Details
CPU
4x Cortex-A53 @ 1.5 GHz, Cortex-M4 @ 266 MHz
RAM
1 GByte LPDDR4 3200 MT/s 32-bit databus
Flash
8 GByte eMMC
Multimedia
Graphics Output
HDMI, MIPI-DSI
Hardware 2D/3D Graphic
GC7000Lite, OpenCL 1.2 and Vulkan, OpenGL ES 1.1/2.0/3.0/3.1
Hardware Video
Decode: 4Kp60
Graphics input
2x MIPI CSI
Audio
5x SAI, SPDIF
Connectivity
Ethernet
10/100/1000 Mbps
USB
2x USB 3.0/2.0 OTG
Wi-Fi
No
FlexIO
No
Serial
3x SPI, 4x I2C, 4x UART
ADC / PWM
No / 4 ch
SD
1x USDHC
PCIe
2x PCIe Gen 2
Serial ATA
No
Physical
Temperature
0 to 70°C or -40 to 85°C
Size
82 x 50 mm
Connector
314 pos MXM3