LOADING
Many communication interfaces, including M.2
Reference design for custom carrier boards
Included in iMX Developer's Kit V2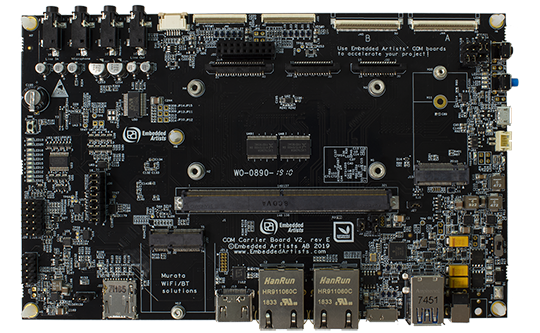 The COM Carrier board is a reference design for custom carrier boards using Embedded Artists COM boards.
Updated Carrier board design – V2
This is the second generation reference design with several enhancements of features and usability:
Support for i.MX8 designs
Support for M.2 Key E interface (typically Wi-Fi/BT), including advanced debug features developed in cooperation with Murata and Cypress
Support for M.2 Key B interface (typically Cellular/SSD)
Support for USB 3.0
Updated power supply design
Direct support for New Haven LVDS display
Access to all audio codec interfaces
Expansion board for easy prototyping
Many RF solutions
The on-board connectors such as M.2 (both E-key and B-key), SDIO, XBee makes it simple to add RF solutions. Our family of Wi-Fi/BT M.2 modules (based on Murata modules) are directly supported.
Display solutions
It is easy to add a display to the carrier board using the COM Display Adapter.  See the page Display Solutions for COM boards for more details about how to add a display.
Supported COM boards
The COM Carrier Board is compatible with the following COM boards:
Connectors and interfaces
MXM3, 314-pos connector with standoffs for COM boards
Dual 10/100/1000 Mbps Ethernet RJ45 connectors
USB 3.0 OTG interface
Dual USB 3.0 Host interfaces (via USB 3.0 Hub)
HDMI connector
UART-to-USB bridge for console connection
uSD connector
Audio codec with line out, line in, mic in and headphone out via 3.5mm audio jack connectors
M.2 E-key connector (with SDIO, PCIe and USB interfaces connected) - for Wi-Fi/BT M.2 modules
M.2 B-key connector (with USB, SIM card holder and SATA interfaces connected)
Dual LVDS connectors, connects directly to a New Haven NHD-10.1-1024600AF-LSXV-CTP display
FPC connectors for serial camera interface (MIPI-CSI), parallel camera interface and serial display output (MIPI-DSI)
Parallel RGB display interface connector
Dual 50-pos FPC expansion connectors (to access many COM Board signals)
Power
12V (+-30%) supply voltage, with reverse polarity protection
DC/DC converter: 3.3 or 4.2V/4A for COM board powering
DC/DC converter: 3.3V/3A and 5V/3A for carrier board powering
DC/DC converter: 3.3 or 3.6V/3A for M.2 Wi-Fi/BT powering
Li-Ion / Li-Polymer battery charger for COM board RTC (note: battery not included)
Dimensions
201 x 126 mm
Five 4.3mm holes for mounting and grounding
Expansion board
XBee™ compatible interface connector
Click board connector
PRi expansion connector
Arduino shield compatible connector
Dual CAN transceivers with ESD protection and optional termination
I2C temperature sensor
I2C light sensor
Access to all expansion signals
Other
On/Off and Reset pushbuttons
Input and COM board current measurement
Real-Time Clock with supercap backup
Environment
0 - 60° Celsius
5 - 90% relative humidity, non-condensing
* Note: the used COM board must support the specific interface to make use of the carrier board interfaces/connectors.