LOADING
Software frameworks: mbed and LPCPpen
Lots of sample code
Many display options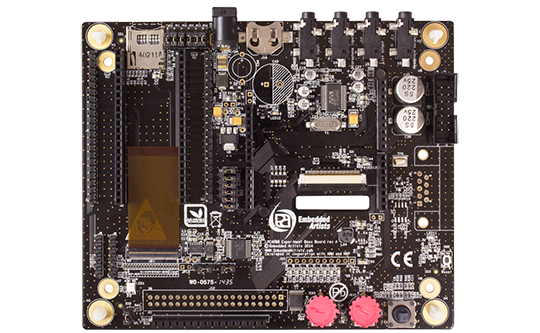 This Experiment Base Board adds several expansion connectors to the LPC4088 QuickStart Board and makes it especially easy to connect displays to the board.
What is included?
* Note: The LPC4088 QuickStart board must be bought separately (alternatively buy the [Experiment Bundle]).
University Platform
The ARM Embedded Systems Education Kit (LPC4088 Experiment Base Board and LPC4088 QuickStart Board) contains everything an educator needs to set up a complete embedded system design and programming curriculum. The hardware cost is reduced to a minimum since four courses use the same hardware.
Display options
4.3 inch TFT LCD with resistive touch – via LCD Expansion connector
5.0 inch TFT LCD with resistive touch – via LCD Expansion connector
2.7 inch E-paper Display Module – via Serial Expansion Connector
1.35 inch Memory LCD – via Serial Expansion Connector
Interfaces / Connectors
2x22 headers for LPC4088 QuickStart Board
2x22 pin list for prototyping
Arduino compatible expansion connectors (for Arduino shields)
Serial Expansion Connector, 14-pos connector with UART/I2C/SPI/GPIO pins
LCD expansion connecor with control signals for touch screen interface
microSD (uSD) interface & connector (both MCI and SPI interface versions)
Audio
WM8731 Audio codec from Cirrus
Microphone input (mono)
Line in (stereo)
Line out (stereo)
Headphone out (stereo)
Connectors
UART interfaces for UART0/UART3 via FTDI cables (not included)
Shift register on SPI bus controlling 8 LEDs
Above shift register also creating a Character LCD interface
RGB-LED
5-key Joystick
LM75 I2C temperature sensor
MMA7455 3-axis accelerometer on I2C bus
Trimming potentiometer on analog input
Connector (CR1216 coin cell) for VBAT (battery not included)
Pads for connector to 1.77" TFT LCD 128x160 pixels (connector and LCD not included)
LCD Interface
FFC/FPC interface connector for 4.3" and 5" LCDs (displays sold separately)
16-bit color depth supported
Touch screen interface controller (AR1021 from Microchip)
Backlight voltage generator
Powering
+5V DC power supply input connector (2.1mm jack)