LOADING
E-paper technology
Ultra low power consumption
Resolution: 264 x 176 px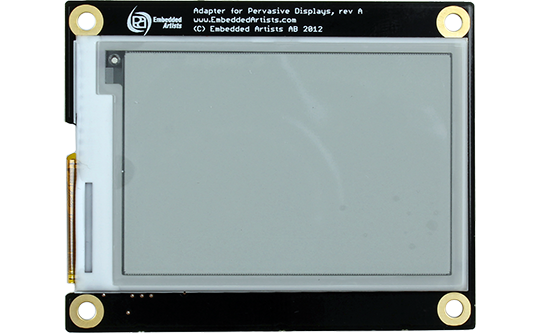 A display module using e-paper technology. It only consumes power when changing content.
The module use the EM027BS013 from Pervasive Displays.
Note that previous versions of the board used the now obsolete EM027AS012 display. The new and old displays are not 100% software compatible.
The display has an SPI interface and some extra control signals. The display module connects to Embedded Artists' standard 14-pos expansion connector. Several of our products have the connector on-board.
2.7 inch E-paper Display Module
Based on display EM027BS013 (as of rev D boards) from Pervasive Displays
a-Si, active matrix TFT, Electronic Paper Display (EPD) panel
No of pixels: 264x176
High resolution - 117 dpi (0.217 x 0.217mm pixels)
Ultra low power consumption - due to its bi-stable nature, the EPD panel requires very little power to update the display and needs no power to maintain an image
Very wide viewing angle - near 180°
No backlight - display useful in daylight applications
SPI interface + control signals, incl a PWM signal
Diagonal size: 2.7 inch
Module supply voltage: 3.3V, the display is supplied with 3.0V via on-board LDO
View area: 57.3 × 38.2 mm
Operating temperature: 0 to +50 degrees Celsius
No of colors: 2 (black and white)
Standard 14 pos serial expansion connector interface (2x7 shrouded pin header, 50/100 mil spacing)
60 x 74 mm module size
3.2 mm mounting holes in 52 x 66.3 mm pattern
32Mbit SPI flash (as of rev D boards)