LOADING
Evaluate the iMX8M Nano uCOM board
All relevant interfaces are available
Easy to evaluate Murata Wi-Fi/BT solutions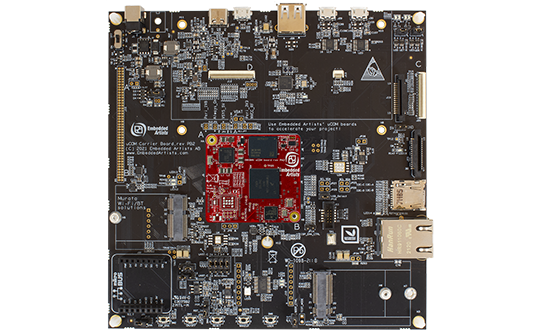 The iMX8M Nano Developer's Kit V3 lets you get up-and-running quickly with the iMX8M Nano uCOM Board. All relevant interfaces are available - either for prototyping or for direct integration into your product.
What is included when buying a kit?
MIPI-to-HDMI bridge adapter
12V power supply
Micro-B to A USB cable
MCU-Link debug adapter
The uCOM Carrier board is a reference design for custom carrier boards using Embedded Artists' uCOM boards.
Many RF solutions
The on-board connectors such as M.2 (both E-key and B-key), Mikrobus and SDIO makes it simple to add RF solutions. Our family of Wi-Fi/BT M.2 modules based on Murata modules with NXP and Infineon chipsets are directly supported. Note that drivers may not exist for all chipsets – check availability.
Do you want to know more?
Specifications are available on the uCOM board page and uCOM Carrier board page.