LOADING
Evaluate the iMX RT1062 OEM board
M.2 connector for Wi-Fi/BT module
4.3 inch LCD included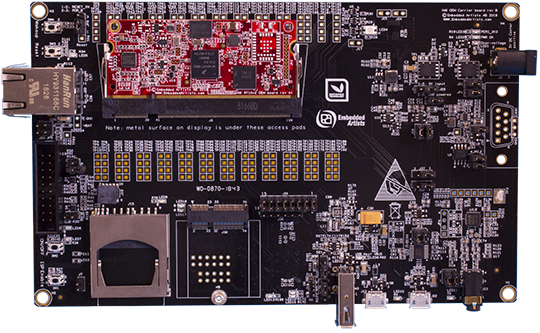 The iMX RT1062 Developer's Kit lets you get up-and-running quickly with the iMX RT1062 OEM Board. All relevant interfaces are available for evaluation or prototyping.
What is included when buying a kit?
iMX OEM Carrier board v2
One 4.3 inch LCD with capacitive touch panel
One micro-B to A USB Cable
Note that we recommend to also buy a debug interface, like LPC-Link2, ULINKplus from Arm/Keil, ULINK2 from Arm/Keil or J-Link from Segger.
Do you want to know more?
Connectors and interfaces
SODIMM200, 200-pos connector, 1.8V keying for OEM board
M.2 connector for Wi-Fi/BT module
10/100 Mbps Ethernet RJ45 connector
USB OTG interface with ESD protection
USB Host interface with ESD protection
SD memory card connector
CAN transceiver with ESD protection and termination
UART-to-USB FTDI bridge for UART interface with ESD protection
Debug interface with 2x5 pos 50 mil pitch Cortex debug connector and 2x10 pos 100 mil pitch ARM debug connector, with ESD protection
Parallel 16-bit RGB display interface and touch panel interface for 4.3 inch 480x272px LCD
Expansion connectors for accessing OEM board signals
Audio codec with 3.5mm audio jack connector (for microphone input and headphone output) and option for external speakers
Power
5V DC supply voltage, either via micro-AB USB connector or 2.1mm power jack connector
External VBAT powering possible
Reverse polarity protection
Internal 3.3V/2A DC/DC buck converter
Dimensions
165 x 104 mm
Four 4.3mm holes for mounting and grounding
Other
On/Off, Reset, ISP Enable and Wakup pushbuttons
Input current measurement