LOADING
Many on-board peripherals
272x480 color LCD with capacitive touchscreen
Arduino UNO compatible expansion site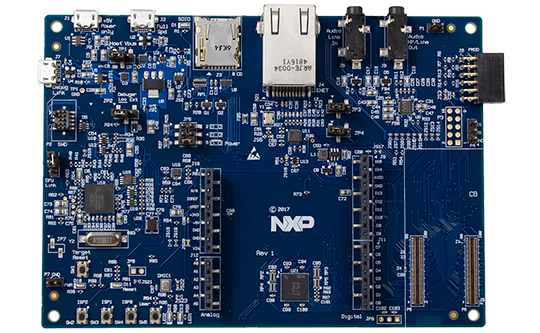 Use this baseboard to evaluate and prototype with the LPC54018 IoT Module.
The IoT Module Baseboard, jointly developed by NXP and Embedded Artists, has been designed to provide easy access to the peripherals available on the LPC54018 IoT Module and provides several on-board peripherals for rapid prototyping. The board also includes an on-board debug probe.
More information
For more information visit NXP's product page for the IoT Module Baseboard.
Connectors and Interfaces
Arduino UNO compatible expansion connectors (Arduino shield)
Stereo audio codec with line in/out
Full speed USB port with micro A/B connector for host or device functionality
Knowles SPH0641LM4H digital microphone
Micro SD card slot
10/100Mbps Ethernet interface
128 Mbit (16 MByte) Winbond SDRAM (x16 databus width)
TFT LCD (480x272 px resolution) with capacitive touch panel
Debug
On-board, high-speed USB based, LPC-Link2 debug interface with CMSIS-DAP and SEGGER J-Link protocol options for debug of installed IoT module
UART and SPI port bridging from IoT Module MCU to USB via the on-board debug interface
Other
NXP MMA8652FCR1 accelerometer
2x user LEDs
Target Reset, ISP/User (3) and User buttons
2x user LEDs
Fully supported by MCUXpresso Eclipse-based IDE and GNU C/C++ toolchain
Powering
Requires an external +5V supply (on-board 3.3V regulator), with:
Powering via separate micro-B USB connector (5V), or
Powering via debug micro-B USB connector
Mechanical
147 x 101 x 24 mm (W x D x H)
Environment
Operating Temperature: 15 - 50 degrees Celsius
Operating Humidity: 5 - 90% relative humidity, non-condensing