LOADING
Intelligent display module
Resolution: 480x272 pixels
Resistive touch panel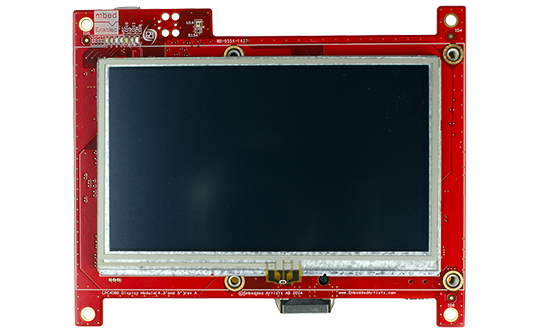 Embedded Artists' LPC4088 Display Module lets you get up-and-running quickly with graphical applications, the mbed-platform and Cortex-M4F programming in general
Designing an Intelligent Display Module from ground up is a big challenge and risk – do you have time for that?
Our LPC4088 Display Module is an attractive alternative and gives you many benefits:
Save months on your development time

Extensive getting started material
Comprehensive software platform

Designed for integration

Proven professional design
Simple expansion for customer specific I/O
CE certified

Long-term availability

Future-proof design
Lifecycle management handled by us

Best price/performance ratio on the market!
Software platform and Development tools
The onboard debug interface allows you to get started immediately with program development.
Free online mbed-compiler, free MCUXpresso IDE or Keil/ARM uVision IDE can be used for program development.
Three different graphical packages can be used:
CPU Details
CPU
Cortex-M4 @ 120 MHz
RAM
32 MByte SDRAM, 96 KByte internal SRAM
Flash
16 MByte external QSPI, 512 KByte internal flash
Multimedia
Graphics Output
Parallel RGB
Hardware 2D/3D Graphic
No
Hardware Video
SW only
Graphics input
No
Audio
I2S
Connectivity
Ethernet
10/100 Mbps
USB
2 x FS USB 2.0 OTG
Wi-Fi
No
FlexIO
No
Serial
2x CAN, 3x I2C, 3x SPI, 5x UART
ADC / PWM
8 ch (12-bit) / 2 ch
SD
MCI
PCIe
-
Serial ATA
-
Physical
Temperature
-20 to 60/70 °C
Size
122 x 99 mm
Connector
-
Power
External 5V DC supply, or
via micro-B USB HDK connector
Connectors / interfaces
100/10Mbps Ethernet, RJ45 connector and unique MAC address
USB Host interface connector (USB A)
USB Device interface connector (USB mini-B)
mbed HDK debug interface connector (USB micro-B)
uSD/transflash memory card interface connector
XBee™ compatible connector for RF module add-on (20 pos connector)
Simple expansion for custom specific I/O via 46 pos, 100 mil pitch pin header
Debug
mbed-enabled via on-board HDK (CMSIS-DAP interface, USB drag-n-drop, Virtual COM port)
10 position SWD/JTAG connector (ARM standard debug connector)
6 position SWD Tag-Connect™ connector
Other
Proper ESD protection on communication interfaces
Supported by the mbed SDK and online tools
Supported by professional tools and middleware
CE tested (EMC, EMI, ESD)
Wide temperature range (-20 to +60/70 degrees Celsius, limited by LCD)