LOADING
Evaluate the LPC3152 OEM Board
All relevant interfaces available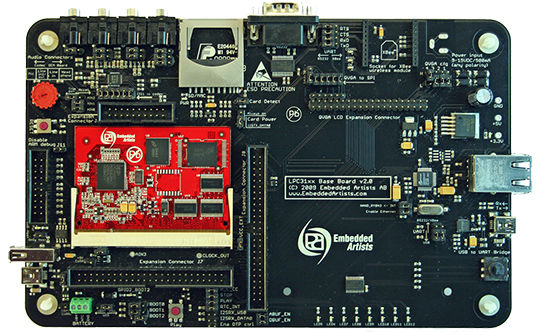 Embedded Artists' LPC3152 Developer's Kit lets you get up-and-running quickly with the LPC3152 OEM Board
What is included?
One LPC31xx Baseboard (EA-OEM-300)
One USB cable, mini-B to A
Headset with microphone
The Kit is perfect for running Linux with its large on-board RAM and Flash, network and graphics capabilities.
Focus on your value-added application by using this Developer's Kit as your prototyping platform. It includes the software components needed to get up-and-running with your software development on day 1.
When you are finished with prototyping and/or evaluation you can easily transfer your application and the OEM Board into production
Connectors
200 pos SODIMM connector for LPC3152 OEM Board
Expansion connector to 3.2 inch QVGA TFT color LCD with touch panel
3 Expansion connectors with all cpu signals
Ethernet (RJ45) connector
MMC/SD interface & connector
USB OTG or Host connectors
3.5mm Audio connectors (mic in, 2x line out, headphone out)
JTAG connector
3 terminal screw connector for battery
2.1mm Power input
Power
Power supply, either via Li-ion battery, USB or external 9-15V DC
LPC3152 OEM Board is powered with Li-ion battery or +5V
Other
100/10Mbps Ethernet interface (DM9000 based)
UDA1380 I2S codec with mic in, line in, line out, and headphone out (typically not used when working with the LPC3152 since it has internal codec)
Current monitors on input power voltages
5-key joystick
3 axis accelerometer
8 LEDs (via I2C)
Trimpot analog input
USB-to-serial bridge on UART
RS232 alternative interface on UART
XBee™ RF-module alternative interface on UART (note that XBee module is not included in bundle)
Reset push-button and LED
205x135 mm in size