LOADING
Evaluate the LPC2468 OEM board
All relevant interfaces are available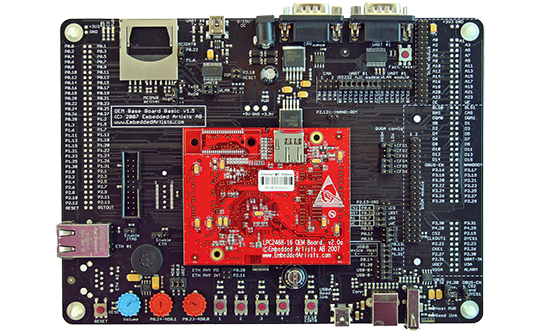 The LPC2468 Developer's Kit lets you get up-and-running quickly with the LPC2468 OEM Board. All relevant interfaces are available for evaluation or prototyping.
What is included when buying a kit?
OEM Baseboard Basic
One USB cable mini-B to A
Connectors
Two 100 pos, 0.6mm pitch Hirose FX8C-100 connectors for OEM Board.
Ethernet connector (RJ45).
MMC/SD interface & connector.
JTAG connector.
Pads for ETM connector.
Interfaces
USB OTG interface & connector.
USB device interface & connector.
USB host interface & connector.
Full modem RS232 on UART #1.
CAN interface & connector.
Power
Power supply, either via USB or external 9-15V DC.
0.3F capacitor backup for RTC.
Expansion
Color QVGA LCD expansion connector (serial and parallel interface options).
Other
5 push-button keys (4 via I2C).
5 LEDs (via I2C).
2 Analog inputs.
USB-to-serial bridge on UART #0, and ISP functionality.
Reset push-button and LED.
Speaker output on v1.5 of OEM Base Board.
All OEM Board signals available on expansion connector/pads.
240x150 mm in size.