LOADING
NXP's Cortex-M0 LPC11D14
LCD with 8 14-segment characters
All LPC11D14 pins are available on connectors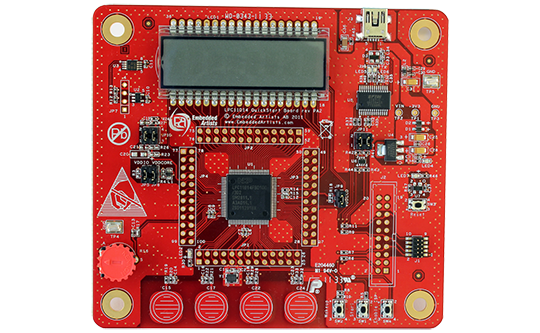 The LPC11D14 QuickStart Board lets you get up-and-running quickly with NXP's Cortex-M0 LPC11D14 microcontroller
Processor
NXP's Cortex-M0 LPC11D14 microcontroller in 100-pin LQFP package.
32 KByte flash.
8 KByte RAM.
Interface / Connectors
All LPC11D14 pins are available on expansion connectors around the processor (100 mil/2.54 mm pitch dual rows).
UART-to-USB bridge interface for LPC11D14 UART, with mini-B USB connector and proper ESD protection.
mini-B USB connector.
SWD/JTAG connector (50 mil/1.27 mm pitch, standard SWD/JTAG connector). Pad for older, larger 20pos 100 mil pitch JTAG connector also exists, but connector not soldered.
Other
LCD with 8 14-segment characters.
32 Kbit I2C E2PROM.
LM75 I2C temperature sensor.
Trimming potentiometer on analog input.
4 capacitive sensors.
Onboard reset generation and reset push-button.
Push-button for enabling Bootloader mode of the LPC11D14.
Push-button for enabling start logic of the LPC11D14.
Push-button for wakeup logic of the LPC11D14.
Possibility to measure current consumption for LPC11D14 core, I/O and LCD controller parts individually.
LED on pin PIO0_7.
Crystal: 12.000 MHz external crystal. The LPC11D14 runs at frequencies up to 50 MHz.
Dimensions: 110 x 100 mm (W x H)