LOADING
HDMI/DVI/VGA/LVDS interfaces
Resistive touch panel (TSC2046)
Compact size: 165x150 mm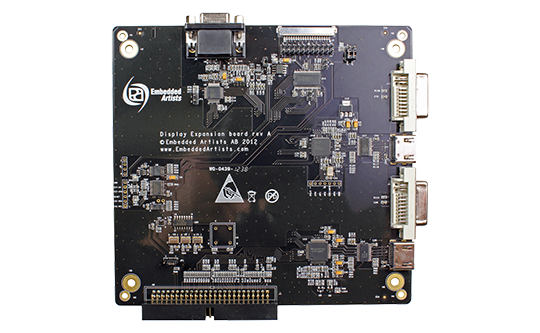 The Display Expansion Board adds graphics capabilities to your LPC1788 Developer's Kit, LPC3250 Developer's Kit v2, LPC4088 Developer's Kit and LPC4357 Developer's Kit.
What is included?
Display Expansion board
50 pos IDC cable
Mounting material
Display graphics on a monitor/TV via the HDMI / DVI / VGA interface or connect an LCD with LVDS interface to your LPC microcontroller!
The display has an RGB interface. A simple 2×25 IDC connector (2.54mm pitch) is used to interface the display board. This IDC connector is compatible with the LCD Expansion Connector of the OEM Base Board.
Display expansion board
Parallel RGB interface, 16-bit color depth (or 12-bit).
HDMI/DVI (digital) transmitter via TDA19988 from NXP (Note: Limited driver functionality. CEC/HDCP functionality not implemented)
HDMI/DVI (digital) transmitter via TFP410 from TI
VGA (analog) transmitter via ADV7125KST50 from Analog Devices
LVDS (digital) transmitter via DS90C383BMT from National Semiconductor/TI
Software controller switching between 25.175MHz, 27MHz and 36MHz pixel clocks
Provision for programmable spread spectrum oscillator DS1086LU+ from Maxim (not mounted).
Resistive touch screen controller, TSC2046 from TI (normally not used)
I2C-E2PROM with configuration parameters
Power control signals via I2C-GPIO
50-pos (2x25) IDC interface connector, compatible with Embedded Artists OEM base board that is used on LPC1788/LPC3250 v2/LPC4088/LPC4357 Developer's Kits
Proper ESD protection on HDMI, DVI and VGA ports
Powered via interface connector (3.3V and 5V required)
Compact size: 165 x 150 mm