LOADING
Wi-Fi 6, 802.11 a/b/g/n/ac/ax 2x2 MU-MIMO
Bluetooth 5.3 BR/EDR/LE
PCIe interface, in M.2 form factor (22 x 30 mm)
Chipset: NXP 88W9098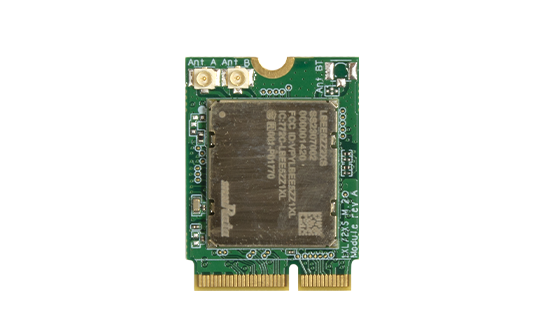 The 2XS M.2 module, co-developed by Embedded Artists and Murata, is designed for evaluation, integration and ease-of-use.
You get started immediately by following our getting started guide:
The 2XL M.2 has two antennas, one for Wi-Fi and a second, shared antenna for Wi-Fi and Bluetooth. This version is suitable for most applications. There is also version of the module, called 1XL M.2 that has three antennas. Two for Wi-Fi and a separate for Bluetooth. This configuration is suitable when special Bluetooth performance is needed.
Our integration guide help you integrate an M.2 module in your next embedded design. It for example contains general information about the M.2 standard and reference schematics.
Murata has a specific landing page presenting our support for NXP's i.MX application processor family.
WLAN
Standards
802.11a/b/g/n/ac/ax 2x2 MU-MIMO, Wi-Fi 6
Network
uAP and STA dual mode
Frequency
2.4 GHz & 5 GHz bands
Data rates
11, 54, 144, 300, 866.7 Mbps
Host interface
PCIe
Bluetooth
Standards
5.3 BR/EDR/LE
Power Class
Class 1
Host interface
4-wire UART@3MBaud
Audio interface
PCM for audio
Powering
Supply voltage
3.3V (3.14-3.46V)
Receive mode current (WLAN)
TBD mA typical
Transmit mode current (WLAN)
TBD mA typical
Mechanical
M.2 standard
Type 2230-D5-EWidth 22 mm, length 30mm, component height 1.5 mm on both sides and E-key connector
Measurements
22x30 mm
Weight
1.5 gram
Temperature
-40 to +85 degrees Celsius