LOADING
Motor control prototyping
BLDC, BLAC, stepper and dual brushed DC
Developed together with NXP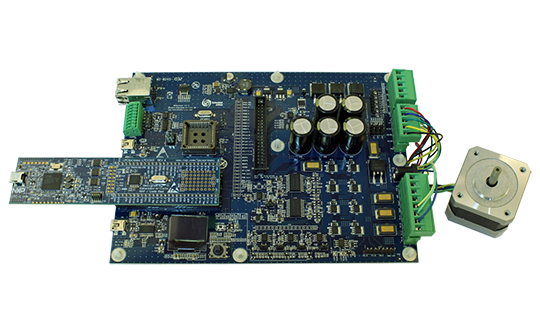 The LPCXpresso Motor Control Kit makes it possible for you to get started with motor control prototyping immediately.
What is included?
One LPCXpresso Motor Control Board
One LPCXpresso LPC1114 Board (EA-XPR-002)
One BLDC Motor
One 24V Power supply
This kit is compatible with LPCXpresso LPC1114 (included in kit), LPCXpresso LPC11C24, LPCXpresso LPC1343 and LPCXpresso LPC176x. It is not compatible with mbed.
Controller MCU
Socket for LPCXpresso LPC1114 and LPC1343
Socket for LPCXpresso LPC176x
Socket for LPC1xxx in PLCC44
Expansion connector for control by LPC1800/LPC4000/LPC2900 families, or other
Phase control
4 phases (based on NXP PMSN2R6-40YS NMOSFET), accessed via screw terminals
Phase control support 100% duty cycle
Voltage measurement (on three phases and virtual ground)
Current measurement (in-phase on three phases and common low-side)
Input current measurement, including over-current trip
Break functionality
Hall & QEI sensor inputs, connected via screw terminals
Temp sensor
12-30V input voltage, 17A max current (max 300W output)
On-board 15W power supply (+11V, +5V, +3.3V)
Communication Interfaces
USB interface (must be supported by controlled MCU)
Ethernet interface (must be supported by controlled MCU)
CAN interface (must be supported by controlled MCU)
RS422/485 interface
UART-to-USB interface
User Interface
5-key joystick switch
96x64 pixel OLED
Other
Reset pushbutton
I2C-E2PROM
SWD/JTAG connector
Power Supply Input
2.1mm input jack, or via screw terminals
12-30V, 17A max