LOADING
Get started with Low-power designs
On-board debug interface
Many sample applications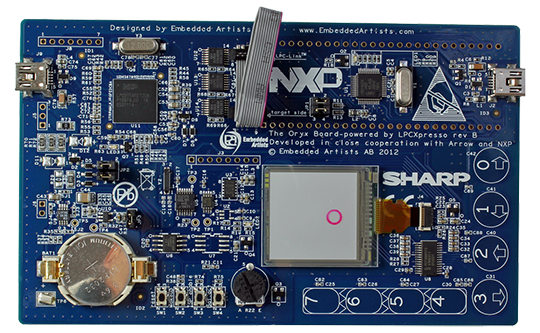 The Low-power Application Kit (Oryx) with NXP's LPC11U37 ARM Cortex-M0 microcontroller has been designed to make it as easy as possible to get started with Cortex-M0 and low-power designs.
What is included?
One Low-power Application Board (Oryx) with LPC11U37
One 10 pos 50 mil pitch SWD/JTAG cable
One USB cable, type A to mini-B
The board demonstrates low-power design techniques both in hardware and software. Includes an extensive user's manual and many sample applications.
Oryx?
The Oryx is one of four large antelope species. It prefer near-desert conditions and can survive without water for long periods – very low-power operation… just like this kit!
Even in full operating mode, the Low-power Application Kit (Oryx) consumes only 42mW (3.0V, 14mA) and as low as 20uW (3.0V, 6.6uA) in power-down mode.
There are multiple possibilities to control the power consumption of the board.