LOADING
Wi-Fi 6, 802.11 a/b/g/n/ac/ax
Bluetooth 5.3 BR/EDR/LE
IEEE802.15.4
SDIO 3.0 interface, SDR50@100MHz
Chipset: NXP IW612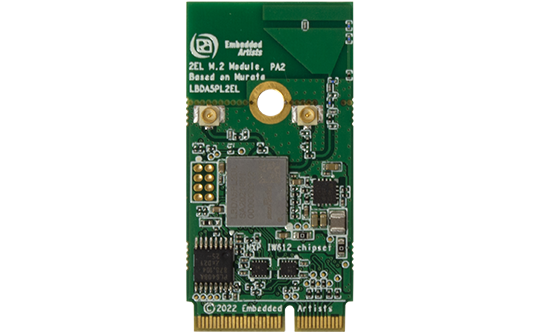 The 2EL M.2 module, co-developed by Embedded Artists and Murata, is designed for evaluation, integration and ease-of-use.
You get started immediately by following our getting started guide:
Our integration guide help you integrate an M.2 module in your next embedded design. It for example contains general information about the M.2 standard and reference schematics
Murata has a specific landing page presenting our support for NXP's i.MX application processor family.
WLAN
Standards
802.11a/b/g/n/ac/ax SISO, Wi-Fi 6
Network
AP and STA dual mode
Frequency
2.4 GHz & 5 GHz bands
Data rates
601 Mbps
Host interface
SDIO 3.0, SDR50@100MHz, DDR50@50MHz
Bluetooth
Standards
5.3 BR/EDR/LE, 2MPHY
Power Class
Class 1.5
Host interface
4-wire UART@3MBaud
Audio interface
PCM for audio
IEEE802.15.4
Host interface
SPI
Powering
Supply voltage
3.3V (3.0-3.6V)
Receive mode current (WLAN)
TBD mA typical
Transmit mode current (WLAN)
TBD mA typical
Mechnical
M.2 standard
Type 2230-D5-EWidth 22 mm, length 30mm, component height 1.5 mm and E-key connector
Measurements
22x30 mm without trace antenna, 22x44 mm with trace antenna
Weight
1.5 gram
Temperature
-40 to +85 degrees Celsius