LOADING
802.11 a/b/g/n/ac and BT/BLE 5.1
SDIO 3.0 interface, SDR104@208MHz
Chipset: NXP 88W8987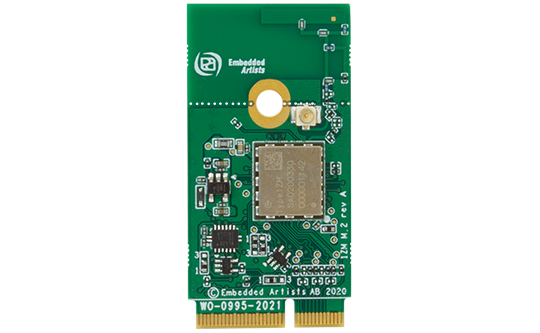 The 1ZM M.2 module, co-developed by Embedded Artists and Murata, is designed for evaluation, integration and ease-of-use.
You get started immediately by following our getting started guide:
Note that the 1ZM M.2 module is currently produced with engineering samples of the Murata LBEE5QD1ZM module, which internally is based on the NXP/Marvell 88W8987 chipset. SW driver is currently only available for our iMX8M Mini uCOM board.
Our M.2 Primer Package contains general information about the M.2 standard, reference schematics and an integration guide how to integrate an M.2 module in your next embedded design.
Murata has a specific landing page presenting our support for NXP's i.MX application processor family.
Module
Murata module
LBEE5QD1ZM, also known as Murata 1ZM
Chipset
NXP/Marvell 88W8987
WLAN
Standards
802.11a/b/g/n/ac
Network
AP and STA dual mode
Frequency
2.4 GHz & 5 GHz bands
Data rates
Up to TBD Mbps
Host interface
SDIO 3.0, SDR104@208MHz, DDR50@50MHz
Bluetooth
Standards
5.1 BR/EDR/LE 3MPHY
Power Class
Class 1
Host interface
4-wire UART@3MBaud
Audio interface
PCM for audio
Powering
Supply voltage
3.3V (3.2-3.6V)
Receive mode current (WLAN)
TBD mA typical
Transmit mode current (WLAN)
TBD mA typical
Mechnical
M.2 standard
Type 2230-S3-EWidth 22 mm, length 30mm, component height 1.5 mm and E-key connector
Measurements
22x30 mm without trace antenna, 22x44 mm with trace antenna
Weight
1.5 gram
Temperature
-20 to +75 degrees Celsius