LOADING
Ultra-low power consumption
2 colors (silver and white)
Resolution: 96x96 px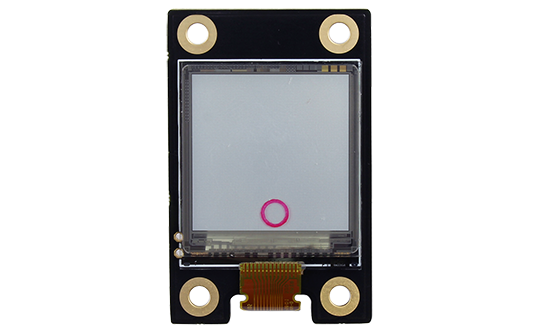 Embedded Artists' 1.35 inch Memory LCD Module adds graphics capabilities to your project
What is included?
Which boards are supported?
The module use the LS013B4DN04 Memory LCD from Sharp, based an ultra low-power display technology. Power consumption is only 4µA with an up-date rate of 1Hz and as low as 2µA for a static image.
The display has an SPI interface and is simple to control. The display module connects to Embedded Artists' standard 14-pos expansion connector. Several of our products have the connector on-board. More modules are found [here].
1.35 inch Memory LCD module
Based on display LS013B4DN04 from Sharp
Display technology: reflective active matrix memory LCD module with CG silicone thin film transistors
Display useful in daylight applications
SPI interface
Diagonal size: 1.35 inch
No of pixels: 96x96
Module supply voltage: 3.3V, the display is supplied with 3.0V via on-board LDO
No backlight
View area: 24.192 × 24.192 mm
Dot size: 0.252 x 0.252 mm
Operating temperature: -10 to + 60 degrees Celsius
No of colors: 2 (silver and white)
Standard 14 pos serial expansion connector interface (2x7 shrouded pin header, 100 mil spacing)
32 x 50 mm module size
3.2 mm mounting holes in 22 x 41 mm pattern